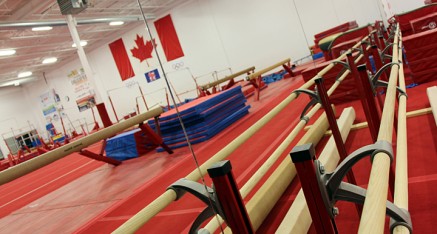 We're the club you've been waiting for
The inspiration behind Dynamo
Dynamo Gymnastics was created to provide youth in Cambridge and surrounding cities with the best of both worlds in the sport of gymnastics. Dynamo brings together experienced and energetic coaching with the newest and safest training facilities and equipment to allow youth of all abilities to experience the benefits of the amazing sport of gymnasts.
Dynamo is a dream come true for internationally known and respected national coach Elvira Saadi, a two-time gold medal Olympic Soviet gymnast and International Gymnastics Hall of Fame inductee. Now, thanks to a partnership with business and communications professionals, Chris Moors and Lisa Rutledge, parents of 2012 London Olympian Victoria Moors and provincial champion Brooklyn Moors, Elvira is finally realizing that dream.
The club's namesake is inspired by Elvira's fond memories competing with Russia's Dynamo-Moscow's Olympic Reserve School, where she also began her career coaching youth athletes.
Programs offered by Dynamo
Recreational: We offer a full range of recreational gymnastics, tumbling and trampoline programs. There's a program for everyone, ranging from parent-and-tot classes, youngsters with boundless energy, as well as specialty classes for, tweens and teens looking for a fun way to keep fit or upgrade tumbling skills to enhance performance in other sports such as dance and cheerleading.
Competitive: Dynamo offers a high-calibre, progressive competitive program designed to help children develop the strong skills they need to prepare for invitational, provincial or national competition. Athletes learn how to challenge themselves within a supportive, positive coaching environment.
For more information on all gymnastics programs, classes and clinics, visit our Dynamo Programs section.