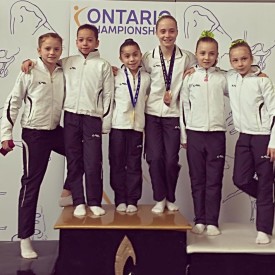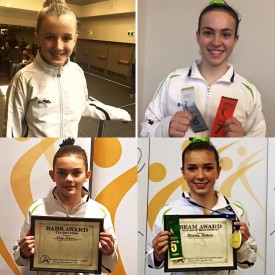 A great weekend for our Provincial Team at championships!
Congratulations to all of Dynamo gymnasts made us proud at the provincial championships this weekend. Dynamo had 12 gymnasts who qualified for championships and their hard work paid off for these go-getters because we had some great results.
Today we had great performances from Level 6 (age 9) and Level 7 (age 10) gymnasts Alannah Curley, Zoey Gauld, Isabella Rego, Alexandra Sheinin, Alexa Tucker and Abby Walls. Lots of great top 10 finishes in many of the events, and a few medals to boot! Alexa won a gold medal for floor (level 6, age 9) and Abby Walls won a bronze for overall and a silver in floor (level 7, age 10)! But that's not all, Abby has qualified to compete in the Eastern Canadian Championships with the Level 7, age 10 Team Ontario. Way to go!
On Saturday, we had more stunning performances throughout the day from athletes Meah Bachert (Level 8, age 10/11) , Kayla Barry (Level 6, age 11), Rhianne Robbins (Level 6, age 13) and Abby Spence (Level 9, age 10-12). The girls looked amazing, and a big shout out goes out to Rhianne who won a gold medal for a breathtaking beam routine!
We had two gymnasts kick things off for us on Friday, Madison Hughes and Carleigh Rau, who gave terrific performances. Madison was 11th overall with top 10 scores on all four events, qualifying her to represent Team Ontario for Level 10 at the Eastern Canadian Championships in Quebec, and Carleigh put in some great routines to take 20th all-around, as well as eighth on vault!
Share