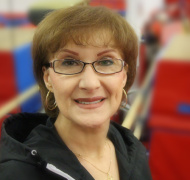 Elvira Saadi, Head Coach, Co-Owner
When it comes to the wonderful sport of gymnastics and helping young gymnasts chase their dream goals, there are fewer coaches in the world who are more passionate than Elvira.
Elvira has a long and highly-decorated history in the sport. A former Soviet gymnast, she helped her team win two Olympic gold medals, and individually placed 8th All-Around in the 1972 Olympics in Munich and 7th All-Around at the 1976 Olympics in Montreal. Since coming to Canada, Elvira has discovered and developed many prestigious athletes, including 2012 London Olympian Victoria Moors, two-time Olympian Yvonne Tousek (1996 and 2000) and Olympian Crystal Gilmore (2000).
After dedicating many of her years to coaching athletes to Elite, National and Olympic levels in Cambridge, Elvira achieved one of her own personal dreams with the opening of her own gymnastics club in 2011, with co-owners Chris Moors and Lisa Rutledge. At Dynamo Gymnastics, Elvira continues a legacy of building competitive programs that provide a second-to-none training foundation to help athletes reach their potential, using her own lifelong experience of coaching and personal love for the sport as her guide.
Elvira has been recognized many times for her contributions to gymnastics. She has been awarded Women's Coach of the Year three times by Gymnastics Canada, and in 2009, she received the prestigious honour of being inducted into the International Gymnastics Hall of Fame.
Elvira is a Level 4 NCCP Certified Coach.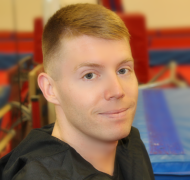 Denis Vachon
Power Tumbling|DMT Director / Artistic Gymnastics Coach
Denis Vachon, one of Canada's most highly-decorated and highly-respected tumbling and trampoline gymnasts and coaches, has joined the Dynamo Gymnastics coaching team, and will lead the charge to bring world-class Power Tumbling and Double-Mini Tramp competitive programs to Dynamo.
Denis has coached many of his athletes to national and world titles and is considered a valuable coaching advisor by Gymnastics Canada and Gymnastics Ontario. He has earned four Worlds titles in double-mini trampoline and won the most back-to-back Canadian Senior Tumbling titles.
Denis is also sharing his talents and knowledge with Dynamo's Artistic Women's program, working as a support to our competitive team. Denis is enthusiastically enjoying a new-found passion in women's gymnastics.
Denis is a level 4 NCCP certified coach.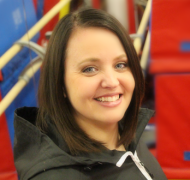 Sarah Rainey
National/Provincial Coach
Sarah has played an important role in helping shape Dynamo's competitive program since the club was established in 2011, working to help develop training programs for gymnasts in levels ranging from pre-competitive to national.
Gymnastics has been always been a big part of Sarah's life, as she rose quickly through the Canadian ranks. A member of the Canadian National Team from 1991 to 1994, Sarah was the youngest gymnast to represent Canada at the Worlds 1991. After retiring, Sarah continued in the sport in a coaching capacity, working for nearly 20 years with youth in every level, ranging from elite, provincial and pre-competitive. She also has experience working with developmental programs for children with special needs.
Sarah is a certified Level 3 coach in Women's Artistic Gymnastics, a certified NCCP Level 3 coach in trampoline.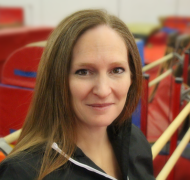 Sue Kenny
Provincial Coach
Sue has been involved with gymnastics for most of her lifetime, as an athlete participating in recreational, pre-competitive and competitive programs and later as a recreational and competitive coach.
After retiring from competition, coaching proved a natural progression for Sue, bringing her knowledge and love to the sport for more than 20 years, in levels ranging from pre-competitive to provincial. Sue has been recognized for her contributions to the sport, receiving a Coaching Achievement Award from Gymnastics Ontario.
Sue is certified NCCP Level 2 Women's Artistic and Trampoline has her theory and technical Level 3 coaching.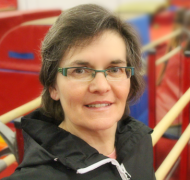 Sue Fleischhauer
Provincial/Pre-Competitive Coach
Sue's coaching career started early in Quebec at the age of 15, after falling in love with gymnastics when she accompanied her sister to the gym. Sue continued to upgrade her technical expertise and soon began coaching athletes at the provincial level.
Sue returned to Ontario where she began a university degree in Human Kinetics and raised her family. Sue has more 20 years of coaching experience and is thrilled to continue sharing her skills in gymnastics as a competitive coach with Dynamo.
Sue is certified NCCP Level 2 in Women's Artistic and Trampoline.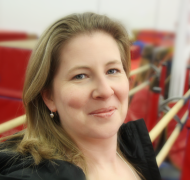 Kim Cass
Pre-Competitive Coach/Ballet/Recreational-Co-ordinator
Kim's passion for gymnastics started at an early age as an athlete, but has remained a constant in her life as she evolved from gymnast to coach in the sports of gymnastics and dance. As a pre-competitive coach Kim brings a much-appreciated blend of skills to her coaching, offering gymnasts the benefits of her knowledge in many aspects of gymnastics, including technique and grace. Kim's experience as a former competitive dancer has made her a valuable asset as one of Dynamo's ballet instructors.
Kim takes great pride in helping young athletes develop in the sport but also as young people.
Kim is certified NCCP Level 2 Women's Artistic Gymnastics and Level 1 Trampoline.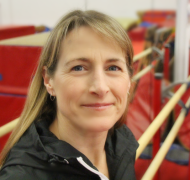 Erin Jarvis
Competitive Co-ordinator/Coach
Erin's background in gymnastics, sports administration and all-around love of sports has been and continues to be a great asset to Dynamo's competitive programs. Erin is an experienced invitational and provincial level coach, and brings a solid understanding of sport to programs thanks to her own passion for athletics.
As a youth, Erin represented Ontario and Canada as a synchronized swimmer and was on the downhill racing team in university. She also holds National Barefoot Waterskiing titles.
Erin is a NCCP certified Level 2 Women's Artistic Gymnastics coach and is certified NCCP Level 2 Trampoline.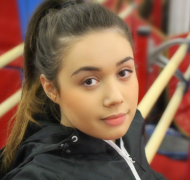 Victoria Moors
Competitive Coach
Since retiring from Elite Gymnastics in 2014, Victoria offers a unique addition to Dynamo's competitive team. As a member of Canada's London Olympic 2012 team which placed a historic fifth-place and a world-class gymnast with two skills named after her in the FIG Code of Points, Victoria has been a constant support of various competitive programs, providing assistance and inspiration.
Victoria enjoys working with gymnasts, especially pre-competitive aged youths, to develop their skills as well as a love for the sport.
Victoria is certified NCCP Level 2 Women's Artistic Gymnastics.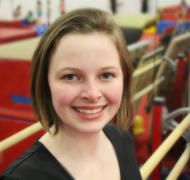 Jackie Radford
Pre-Competitive Coach
Jackie's love and appreciation for gymnastics formed early on during her career as a competitive gymnast and, despite retiring from the sport, that dedication and enthusiasm has remained constant ever since. Jackie is now continuing her journey in gymnastics as a coach in Dynamo's pre-competitive program, helping a new generation of young gymnasts explore their love for gymnastics.
Jackie is NCCP Certified Level 2 Women's Artistic.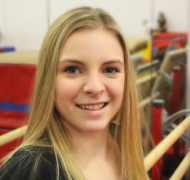 McKinnley Tate
Pre-Competitive Coach
McKinnley has been involved in sport since she was very young, honing her strengths, skills and competitive spirit in the disciplines of competitive gymnastics and cheerleading. McKinnley continues to combine her love for sport by working with youths as a coach with Dynamo's pre-competitive program, offering her dedication and positive outlook, ensuring young gymnasts have a great start in the sport.
McKinnley is NCCP Certified Level 2 Women's Artistic.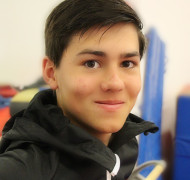 Jake Greenfield
Pre-Competitive Coach
Jake found early success as a gymnastics coach, quickly developing from a gymnast in Dynamo's tumbling program into a strong and well respected recreational and pre-competitive coach. Jake's dedication, good nature and ability to learn quickly has earned him a coveted spot in Dynamo's competitive coaching team.
Jake is NCCP Trained Level 2 Women's Artistic.