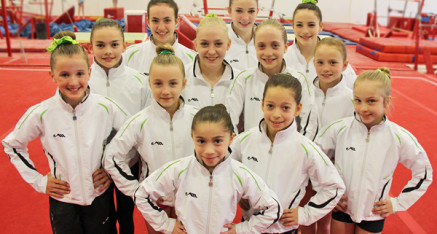 CAMBRIDGE – Dynamo Gymnastics is home to a few new provincial champion titlists and newly-qualified members of Team Ontario following the Ontario Women's Artistic Championships recently held in Mississauga.
A team of a dozen gymnasts qualified for the 2016 championships this year, going up against the top athletes across the province, and came out of the meet with some serious bragging rights.
Top performers were gymnasts Madison Hughes (Level 10, age 11-14 years) Abby Walls (Level 7, age 10-11), Rhianne Robbins (Level 6, age 13) and Alexa Tucker (Level 6, age 9).
Despite some injuries this season, Hughes saved the best for last, giving a solid all-around performance to qualify for a spot on Ontario's Level 10 team that will compete in the upcoming Eastern Canadian Championships in Quebec.
Clubmate Walls, who won silver in floor and a bronze in all-around for her level, will join Hughes at Easterns after her top results landed her a spot on Team Ontario's Level 7 squad.
Also bringing home the hardware were Robbins, whose gold medal earned her the title of beam champion, and Tucker, whose performance on floor won her the gold and the title of floor champion.
Representing Dynamo with passion and power were Abby Spence (Level 9, age 10-12), Meah Bachert (Level 8, 10-12), Carleigh Rau (Level 8, 14-15) and Kayla Barry (Level 6, age 12). Each gymnast gave top-notch performances, including many top 10 results.
Strong performances also came from Dynamo's Level 6, age 9 crew at their first-ever championships, including Zoe Gauld, Isabella Rego, Alannah Curley and Sasha Sheinin.
Special judge's awards were also given to Spence (bars flight) and Robbins (beam choreography).
Share