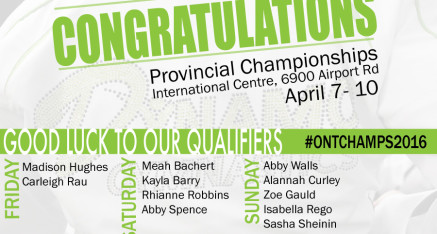 Ask us just how excited we are about this weekend. Never mind, we can't wait for you to ask…..!
We're excited the Ontario Championships are coming and even more thrilled to say we have 12, count 'em, 12 provincial gymnasts who qualified to compete at the championships!
Congrats to Mady Hughes, Carleigh Rau, Meah Bachert, Kayla Barry, Rhianne Robbins, Abby Spence, Abby Walls, Alannah Curley, Isabella Rego, Zoe Gauld, Sasha Sheinin and AlexaTucker.
The girls will be going up against the best of the best this weekend as they compete in provincials Friday, Saturday or Sunday at the International Centre just outside of Brampton.
We will make sure we keep you all posted on results throughout the weekend.
And for our families whose kids are competing, make sure you share your photos with us on our Facebook page, Twitter (@DynamoGymnastic) or Instagram Dynamo_Gym. Make sure you use the#ONTCHAMP2016 tag.
Here's some of the deets about the championships. http://bit.ly/22aVGLq
You can follow live scoring on the BTS app, too.
Share