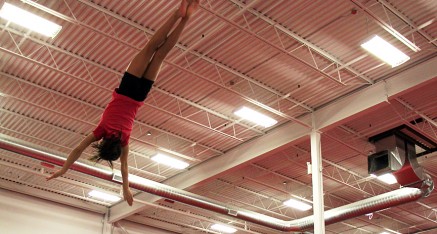 Gymnastics and Tumbling Clinics
Do you love gymnastics but just can't get enough? Are you looking for additional opportunities to build your strength and work toward achieving new and more difficult skills?
Dynamo Gymnastics offers a variety of specific clinics, conditioning classes and gymnastics workshops for the young athlete who wants extra time in the gym to work on specific skills. A new clinics schedule is introduced with each new session throughout the year.
* Please note: Gymnasts must be 6 years and up to participate in clinics. Assessments are required for intermediate and advanced classes.
Winter Clinics 2018
Now Open! Winter 2018 Clinics are now available! 
See clinics availability and book online.
(Intermediate and Advanced clinics require assessments. Please call the office at 519-658-4670 or email info@dynamogymnastics.ca for an assessment.)

We offer:
Basic Clinics
Intermediate Clinics
Advanced Clinics
Conditioning Clinics
Flexibility Clinics
Training Workshops
For more information about our clinics and workshops, or to book an assessment, email info@dynamogymnastics.ca or call 519-658-4670.