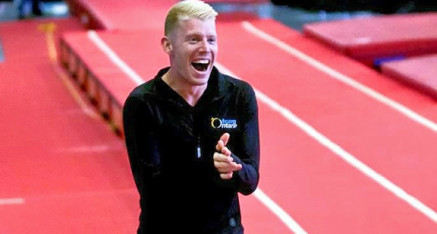 It is with tremendous pride that Dynamo Gymnastics Sports Centre announces that world-renowned Power Tumbling and Double-Mini Tramp coach Denis Vachon will be joining our club's elite, all-star coaching staff.
Beginning this summer, Denis will assume the exciting role of launching Dynamo's new competitive Power Tumbling and Double-Mini Tramp programs, leading the charge to add world-class tumbling to Dynamo's lineup of prestigious gymnastics disciplines.
Denis comes to Dynamo with a list of achievements and accomplishments that is virtually unparalleled in Canadian gymnastics, both as a coach and as a gymnast.
As an athlete, Denis is a six-time world medallist on Double-Mini Tramp and an 11-time Canadian champion, and only retired from the sport last year.
As a coach, Denis holds a Level 4 certification, the sport's highest possible accreditation, and is considered one of Canada's most inspirational and successful coaches, leading an amazing 25 athletes to national champion status.
Under his tutelage, 15 athletes have qualified to represent Canada at international competition. He has also produced the 2010 World Junior Champion, as well as three world championship finalists and medallists.
Denis is looking forward to sharing his expertise with Dynamo Gymnastics, introducing Power Tumbling and Double-Mini Tramp programs at Dynamo's Cambridge facility, moving to the club's soon-to-be built Guelph facility.
Denis is currently holding try-outs for the competitive tumbling and double-mini tramp program at Dynamo. The last day of try-outs will be today (June 9). For more information, visit our Try-Out section.
Share